Director, Mr. George Bradshaw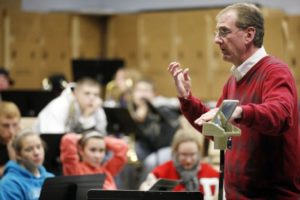 Mr. Bradshaw, a native of York County, graduated from Mansfield University with the Bachelor of Music in Music Education degree. While at Mansfield he studied trumpet with Dr. Michael Galloway and wind conducting with Mr. Donald Stanley. In 2000 Mr. Bradshaw graduated from Duquesne University with his Masters in Music Education.
He began his teaching career in the Fauquier County Public School system in Virginia where he taught elementary general music and started the 5th and 6th grade choirs. After leaving Virginia, Mr. Bradshaw accepted a teaching position as the middle school band director with the Dover Area School District.
He is currently the Director of Bands and Fine Art Department Chairperson for Dover Area High School. His duties include teaching two concert bands, two jazz bands, the award winning "EAGLE" Marching Band, pit orchestra, pep band, various small ensembles as well as two music classes and sectionals. Under his direction the bands have performed in Toronto, Florida and New Orleans. The band has also performed at the EPCOT Center, MGM Studios, the nationally televised NCAA Kick-Off Classic; Disneyland CA, the Hollywood Bowl and two appearances in the Hollywood Christmas Parade. The bands of DHS also marched in the Waikki Holiday Parade as well as performed at Pearl Harbor. Recently, his bands received several honors at a music festival in Williamsburg, VA.
Mr. Bradshaw is the conductor of the Twin Rose Concert Band. A community band of nearly 50 musicians ranging in age from 15 – 84, that performs 25 concerts throughout the year. Mr. Bradshaw is also the Co-founder and Jazz Band director for Youth Music Abroad. This select group of 100 high school students travels throughout Europe performing at concert venues in Paris, Rome, Luzerne and London. Last summer he toured Europe with 15 Dover High School students .
His honors six nominations for Who's Who Among America's Teachers. In 1999, he was recognized by the PA Jaycees, by receiving their Outstanding Young Pennsylvanian Award for his work in the field of education. Also 1999, his article "A Positive Enhancement for Bands" was published in "Fanfare" magazine. Mr. Bradshaw was also one of the first music educators in the country to receive certification from the Technology Institute for Music Educators. In 2008 he was selected by the York Newspaper company as one of York counties Unsung Hero's for his work in education. Recently he was selected as a member of Phi Beta Mu, which is an International Honorary Fraternity for band masters. He is a member of MENC and PMEA, where he serves as the York County Representative, President of the York County Band Director's Association and Jazz Audition Chairperson for District 7.
He currently resides in York with his wife Kathy and daughters Julia and Clara.
---
Assistant Director, Mr. Seth Keller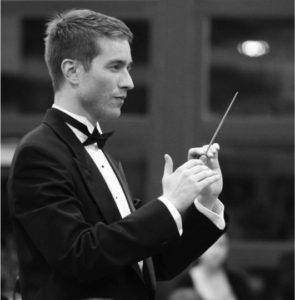 Mr. Keller, a 2009 Dover Area High School graduate, obtained his Bachelor's of Music in Music Education degree from Mansfield University, graduating magna cum laude. While attending Mansfield, he studied French horn with Dr. Rebecca Dodson-Webster.  Additionally, he performed as a member of the Northern Tier Symphony Orchestra in its inaugural season and seasons to follow.  In 2012 Mr. Keller traveled to London, England to perform several events during the 2012 Summer Olympics. In 2016, he graduated with his Master of Science in Education degree through Walden University.
Mr. Keller started his career in the Clark County School District in Las Vegas, Nevada at Cimarron-Memorial High School, serving as both Director of Bands and Director of Choirs. In this role, he was given the task of teaching grades 9-12 Beginning and Advanced Bands, Marching Band, Glee, Concert Choir, and developing a curriculum for Music Appreciation at CMHS. There, he was awarded the CCSD "New Teacher of the Year" in recognition of outstanding educational contributions. Under Mr. Keller's tutelage, the bands had the honor of playing at various events, including the Las Vegas Veterans Day Parade, competitions in the Los Angeles area, and community events that are open to the public. While teaching in Nevada, Mr. Keller performed with the premiere contemporary wind symphony of Las Vegas, "The Desert Winds," under the artistic direction of Charles Maguire.
Currently, Mr. Keller serves as the Director of Bands for the Dover Area Intermediate School. His duties include overseeing the instrumental music program, teaching lessons and various small ensembles, as well as music classes and sectionals for almost 100 students. During the 2015-2016 school year, Mr. Keller pioneered an international partnership with the James Hornsby School, located in Basildon, England. The bands exchanged letters, pictures, videos and school spirit items, as well as performed an inaugural Exchange Concert on May 16. The students in the James Hornsby Band were projected via live video feed into the auditorium, so that the two ensembles could see and interact with each other in real time.
In the fall of 2016, Mr. Keller traveled to Basildon, England where he served as guest conductor and clinician for the James Hornsby Band. He currently resides in the York area where he maintains a private studio and is an in-demand brass soloist and accompanist.
---